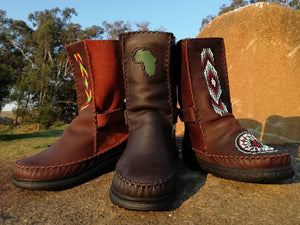 Just like every snowflake that ever falls, every creation hand-crafted at Zulu Boots is unique. In our small, off-the-grid workshop in rural KwaZulu-Natal, South Africa, we create timeless classics that embody the craftsmanship and quality of a bygone era.
Off the shelf, ready to wear boots (click on an image to open up more options in that style and size)
---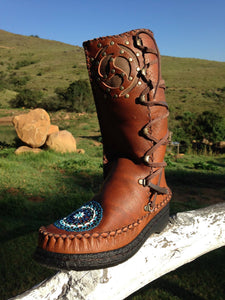 Want something a little more personal?
Order a customised pair of boots and choose your materials, favourite colours, beading, cutouts and more to create an item that's truly original and personal.
We encourage you to take your time, look at all the different options and complete your order carefully. This will help give us a clear idea of what you want so that we can create your perfect pair!
As availability and range are sometimes limited, we cannot guarantee that leather colours will be identical to those illustrated.
Orders usually take between 1 and 2 weeks but please allow for longer during busy times. It'll be worth the wait!
Order your boots